Posted by St Thomas More School on 10 August 2018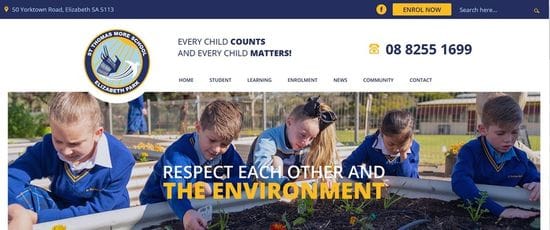 We are very excited that we have launched our NEW WEBSITE!
At St Thomas More School we understand and recognise that student learning is enhanced when they feel safe, happy and a sense of belonging to their school community.
We are committed to student's well-being through a variety of whole school programs and preventative strategies.
These include a focus on:
Social Skills Programs
Restorative Practices
Peer Mediation
School Counsellor support
School Norms
Circle Time
Posted by St Thomas More School on 9 August 2018
St. Thomas More School has a student enrolment population of approximately 300 students from Reception to Year 7.
New enrolment enquiries for Reception to Year 7 are welcome throughout the course of the year....
View our Enrolment Information page
Posted by St Thomas More School on 8 August 2018
Teaching and learning in the 21st Century requires recognition that successful education needs to provide a set of fundamental skills that are transferable and adaptable to whatever the future holds.
In order to learn how to learn, children need to be provided with a solid foundation of skill acquisition and to develop a range of thinking and research abilities.
As educators, we aim to provide learning environments that offer lots of practice in how to make decisions, initiate ideas, persist, find out, try again, take risks, explore and research in a range of ways that relate to children's own interests.